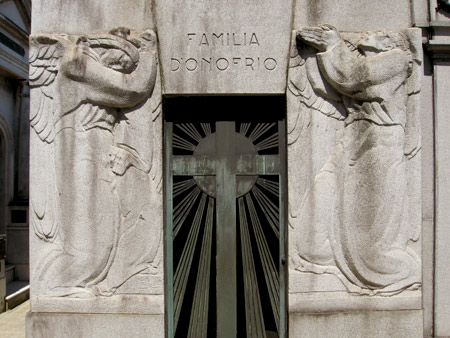 There's not much info about who the D'Onofrios were or what they did other than having a little bit of Italian & Irish in their background. What's more striking is the Art Deco-ness of their family mausoleum, created by one of the most gifted sculptors in Buenos Aires: Troiano Troiani.
Born in 1885 in Udine, Italy (the region bordering Austria & Slovenia), Troiani immigrated to Argentina in 1910. Italian artists were invited to participate in Argentina's centennial festivities, as thanks in part to heavy Italian immigration since the 1880s. Troiani became a popular (yet now forgotten) artist throughout the 1930s & adorned many public & private works during that time. He decorated houses in the Caballito neighborhood, the ex-Ministry of Public Works on Avenida 9 de Julio, light fixtures in front of Congress, & several tombs in this cemetery. Troiani died in 1963, but he left a lot to admire in Buenos Aires.
Inside the D'Onofrio mausoleum is a Byzantine-inspired image of the crucifixion & a textured stained glass panel: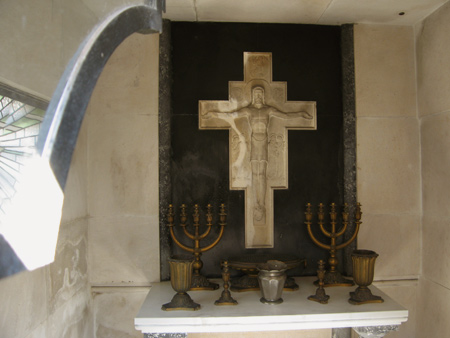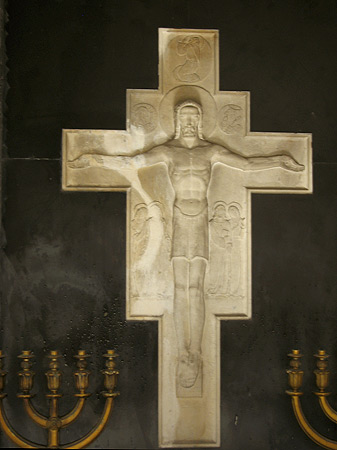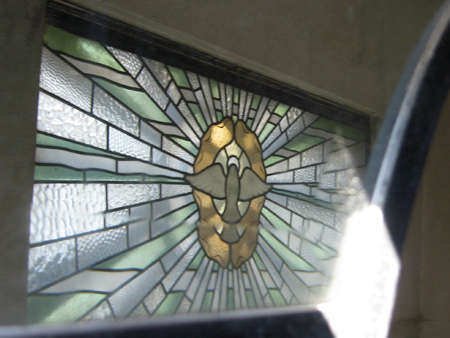 If there's an interior that is interesting or particularly photogenic, don't be intimidated by a closed door. Glass doors often have multiple openings large enough to point a camera lens through. Even if there doesn't appear to be much to see, use your camera as a spyscope. Side windows are also another option to get a sneak peek.
3 Comments