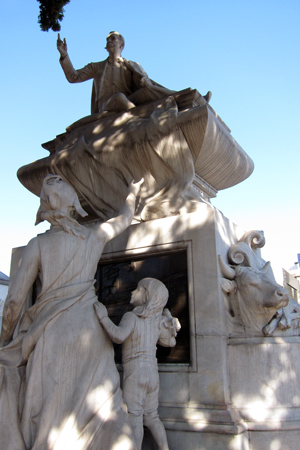 As son of highly educated Swiss immigrants, there is little surprise that Carlos Pellegrini grew up with an advantage. Schooled by family members, his talent for language & expression would serve him well in the future.
After attending law school for two years, Pellegrini put his studies on hold to fight in the War of the Triple Alliance in Paraguay, returned to finish his degree & began a life in politics. Pellegrini served in both houses of Congress before becoming Vice-President under Miguel Juárez Celman in 1886.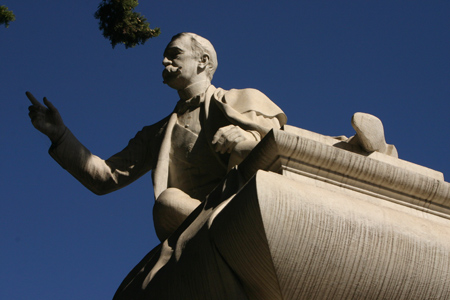 Argentina faced troubled times during Pellegrini's lifetime. Buenos Aires began receiving millions of European immigrants. As the population soared, so did national debt. Arrival of a large workforce helped the economy expand at first, but infrastructure demands led to an economic & social crisis. While Pelligrini was in office, foreign debt doubled, salaries dropped, unemployment grew & strikes were commonplace. The fact that President Juárez Celman continued the upper class tradition of electoral fraud made matters even worse.
The violent 1890 Revolution removed Juárez Celman from power, & Pellegrini became President. Although in office for only two years, conditions improved so much that Argentines attributed him with navigating the country through the storm.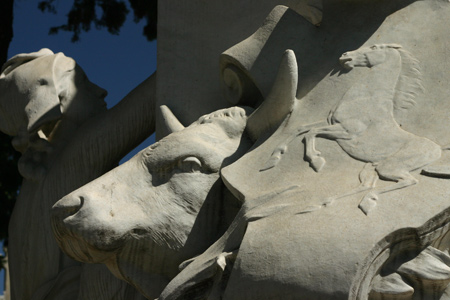 Further contributions by Pelligrini include founding the Jockey Club, an elite social organization for horseracing fans which became a symbol of the oligarchy's hold on the country. As its first President, references can be found everywhere on the vault. A bronze relief at eye level depicts the Jockey Club façade on Florida Street before it was burned to the ground in 1953 by Perón supporters. No doubt this hatred prevented Pellegrini's tomb from being declared a National Historic Monument in 1946… that would have to wait until 1964: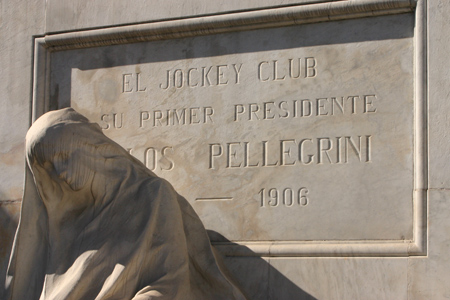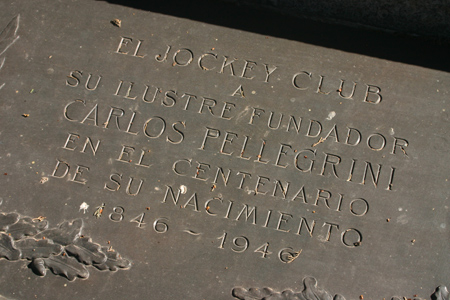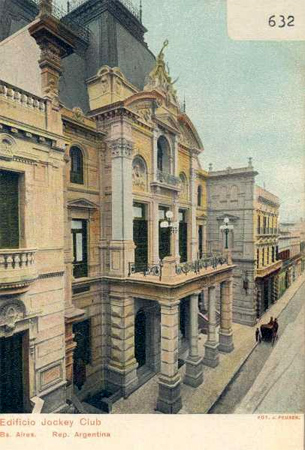 Pellegrini also established the Banco de la Nación, helping strengthen Argentina's fiscal policy & consolidate national debt. The main branch on Plaza de Mayo would later be constructed by Alejandro Bustillo: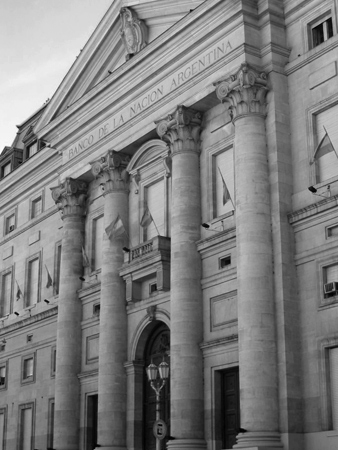 Although without doubt a defender of the upper class, Pellegrini began to understand the need for incorporating other groups in the political process. In part, it was this realization that drove him away from former ally President Roca… also the fact that Pellegrini fought hard in Congress to get Roca's foreign debt consolidation loan approved which Roca later withdrew without consulting Pellegrini. Passing away in 1906 at the age of 59, today he is remembered mainly for encouraging industrial progress & electoral reform.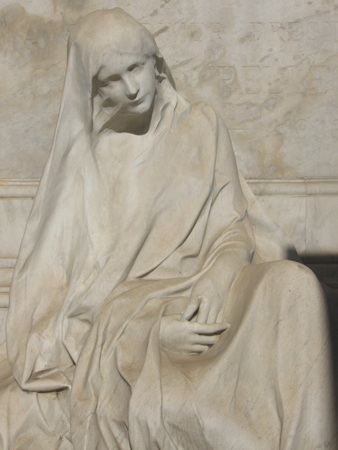 4 Comments